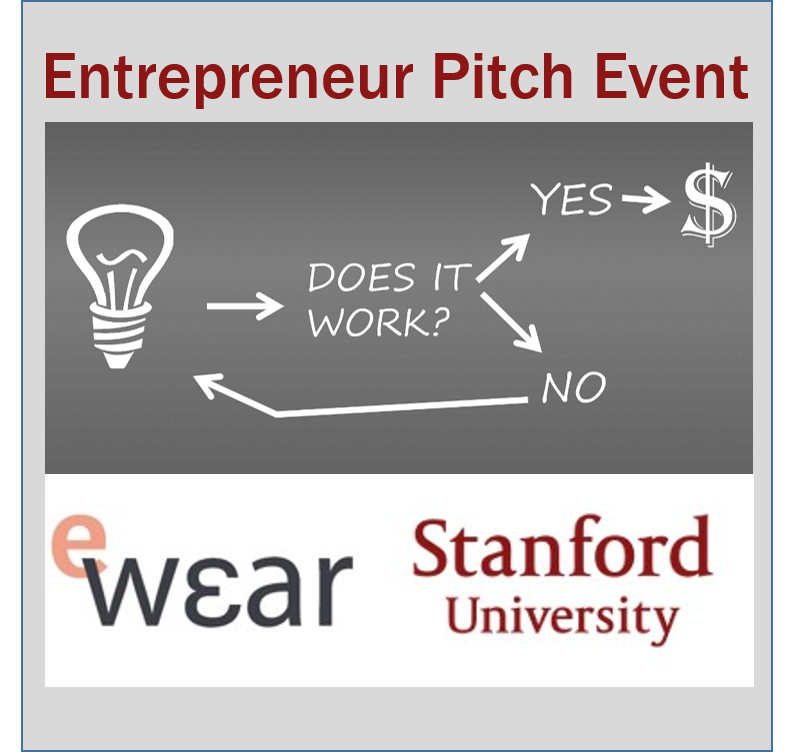 eWEAR Entrepreneur Pitch Event 2022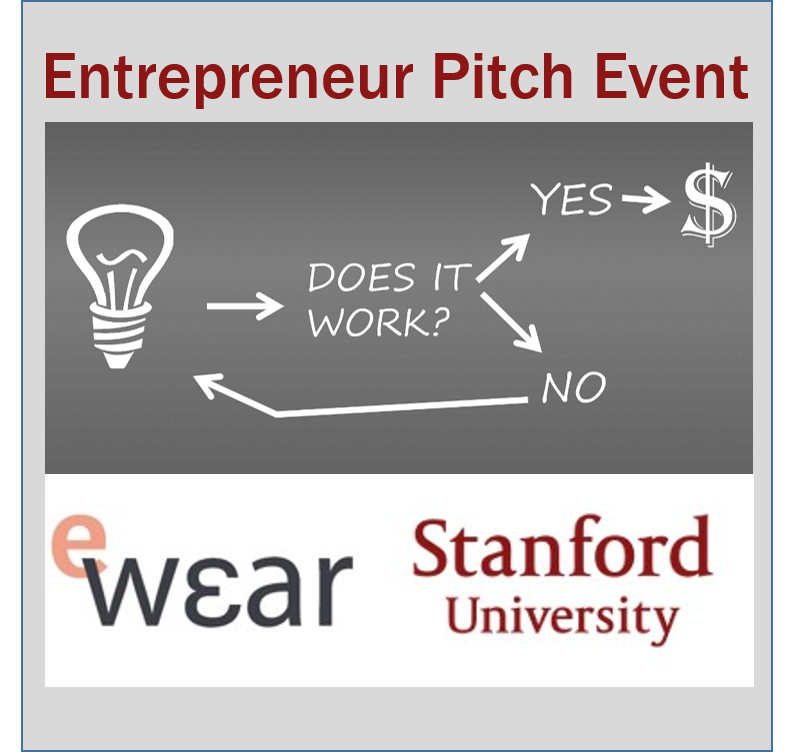 Stanford students and postdoc entrepreneurs present their businesses/ideas for mentoring feedback as a personal growth and networking experience.
Date: Wednesday, January 19th, 12:00 pm to 1:00 pm PST
Zoom Webinar
(for eWEAR affiliate members and investors by invitation only, for inquires email wearable-electronics@stanford.edu)
---
Speakers:
Joshua Leaston & Sasha Ronaghi: "TrueTone: skin cancer protection and education for all"
Mika Eddy & Blynn Shideler: "Behavioral nudges to improve management of GD in women on Medicaid"
Karen Chen & Zoe von Gerlach: "Allieve: your one stop shop for MSK pain"
Koosha Nassiri Nazif: "Novel temperature sensors to enable monitoring of high-burden skin conditions"
Joshua Leaston & Sasha Ronaghi:
"TrueTone: Skin cancer protection and education for all"
Abstract: Studies have shown that skin cancer in people of color, though less frequent, is often diagnosed at later stages and has a higher mortality rate. We propose the creation of a digital health platform to provide personalized sunscreen and engaging educational modules to people of color. Consumers would be able to customize sunscreen shade to their skin tone. With this platform and our new Sunscreen brand, we are going direct to consumer in order to raise the highest level of awareness. The value of this solution is the reduction of skin cancer incidence and skin cancer education in people of color. Next steps (3-6 months): Digital development, marketing, and R&D of sunscreen products.
Bios: Joshua Leaston is a a 1st year medical student from Boston, Massachusetts. Joshua has
a wide net of interests, but they are centralized around their passion for both neuroscience and
innovation. Joshua has a diverse assortment of past experiences that include imaging based
research, software development, nonprofit development, and advocacy for marginalized
communities.
Sasha Ronaghi (she/her/hers) is a sophomore from Irvine, CA studying Computer Science.
After volunteering at a low-income community hospital, she became motivated to improve
healthcare technology accessibility. Her past research has centered around improving patients'
lives, from antibiotic susceptibility testing to breathable, hydrophobic bandages and
Alzheimer's disease recording methods.
---
Mika Eddy & Blynn Shideler:
"Behavioral nudges to improve management of GD in women on Medicaid"
Abstract: 1 in 4 pregnancies are diagnosed with gestational diabetes, which leads to an increased risk of cardiac defects in the baby, and preeclampsia, C-section, and postpartum hemorrhaging in the mother. Our solution offers a virtual pregnancy "retreat" including peer-support groups, text/voice nudges to push patients towards healthier behaviors in multiple languages.
Bios: Mika has spent the last 10 years in healthcare focused on leveraging low cost technology to improve access and delivery of care. Most recently, she was Director of Clinical Product Innovation at Optum (part of UnitedHealth Group) where she led development and launch of United's first voice assistant to help members navigate care. She has a BA in Human Biology and an MS in Management (expected June 2022) from Stanford.
Blynn Shideler is a second-year medical student interested in pediatric rehabilitation and
child neurology. Prior to coming to Stanford, Blynn studied biomedical engineering at
Columbia and spent a year at the National Institutes of Health Hospital helping build a
pediatric robotic exoskeleton for cerebral palsy. At Stanford, Blynn is working on starting the
Pediatric Rehabilitation Technologies Program, a space for children with physical disabilities
to try new devices for mobility health.
---
Karen Chen & Zoe von Gerlach:
"Allieve: your one stop shop for musculoskeletal (MSK) pain"
Abstract: Allieve is a complete digital pain management platform for chronic musculoskeletal (MSK) pain patients and their providers with three main aspects:
– Data-driven metrics: Allieve tracks daily metrics such as pain score, mood, lifestyle, and self-efficacy to provide insights on improvement, and will include AI-driven pain prediction analytics.
– Smart Treatment Marketplace: Allieve provides a broad range of custom-tailored treatment options for patients to choose from, including traditional treatments such as physical therapy and cognitive therapy, as well as alternative options such as acupuncture and meditation.
– Community Support: Allieve's "social media" community fosters patient-patient relationships to build a support system for patients, as well as addressing patient opinions on treatments and experiences.
Bios: Karen Chen (she/her/hers) is a senior majoring Computer Science on a Biocomputation track
and minoring in Human Rights. She is committed to generating a positive impact through
scientific innovation and health policy, and strives to make access to healthcare a universal
human right. Her interest include the use of AI for disease diagnostics, telemedicine to reach
underserved populations, and data science to drive public health decisions. In her free time,
she enjoys painting landscapes and testing new recipes!
Zoe von Gerlach was born in Germany, but grew up in Barcelona, Spain. Zoe studied Computer Science as an undergraduate at Stanford, and is currently a Management Science and Engineering master's student. Zoe is really passionate about using cutting edge technology and applying it to problems in the digital health space. By focusing
both on patients and medical care professionals, Zoe wants to address their needs, leverage advancements in technology, and ultimately increase access to care.
---
Koosha Nassiri Nazif:
"Novel temperature sensors to enable monitoring of high-burden skin conditions"
Abstract: Several high-burden skin conditions, including skin cancer, wounds, and decubitus ulcers, do not presently have real-time, non-invasive assessment methods which can lead to actionable data guiding impactful clinical intervention (~$30B US market size). There are data suggesting that that skin temperature-sensing can be used for accurate early diagnosis of skin cancer, and to predict development of wound complications or impending decubitus ulcer formation. We have developed a novel temperature-sensing technology for these applications, using which we will gather pilot clinical data from patients to assess the feasibility of the approach for a skin lesion assessment use case.
Bio: Koosha is a postdoctoral scholar at Stanford developing novel flexible sensors and energy harvesters for use in wearable electronic devices. He received his Ph.D. (2021) in Electrical Engineering and M.S. (2016) in Mechanical Engineering from Stanford, and B.S. (2014) in Mechanical Engineering from Sharif University of Technology. During his PhD he developed a new solar cell technology based on ultrathin transition metal dichalcogenides (TMDs), achieving specific power (power-per-weight ratio) on par with established solar cell technologies.