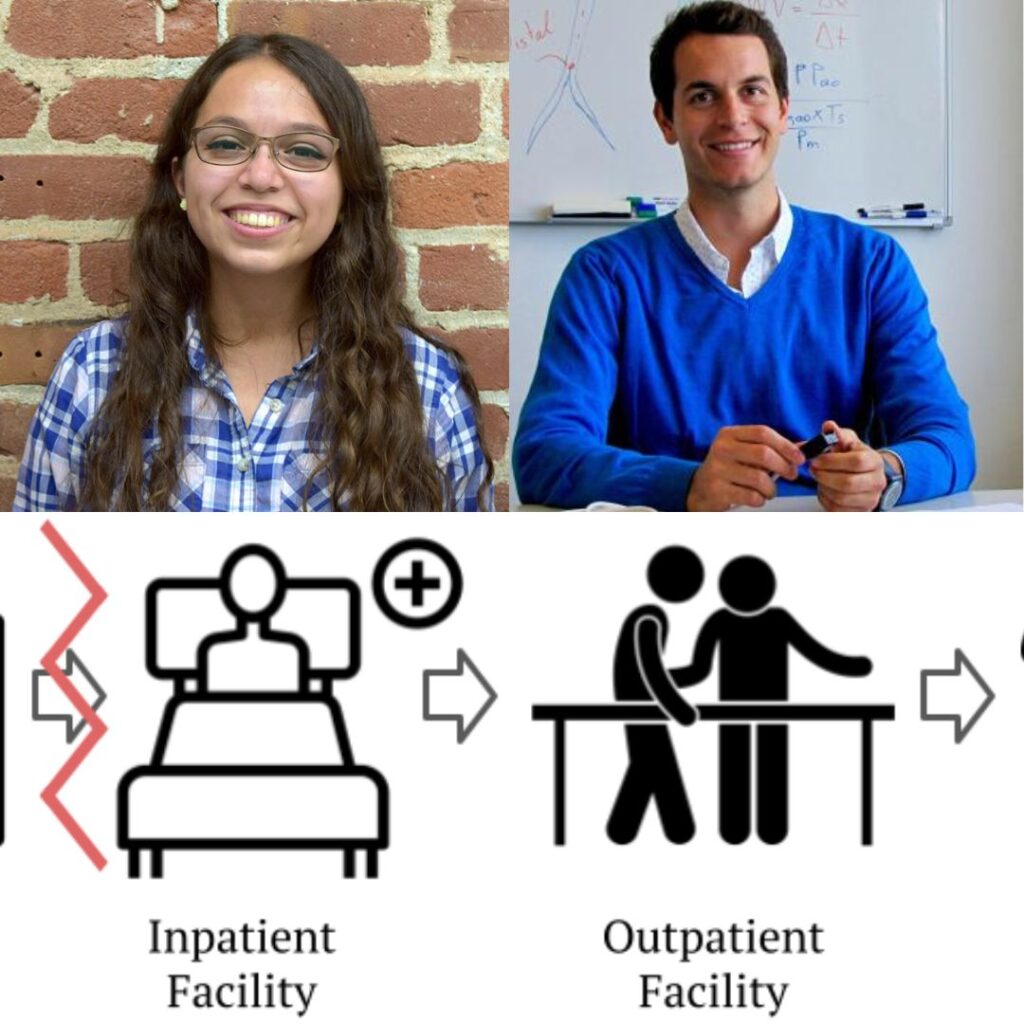 Technology considerations for people suffering from stroke
We welcome you to join us in-person and on Zoom for our February eWEAR Seminar.
Date: Monday, February 27th from 12:30 pm to 1:30 pm PST
Location: Stanford University (Y2E2 Building, Room 299) & on Zoom
Lunch will be provided at 12:00pm for in-person attendees & a chance to talk with the speakers after the seminar.
Registration: Please click here to register
Safety Protocol: For visitors coming to campus please review the Stanford University Covid-19 Policies. Face coverings are strongly recommended for everyone attending.
Speakers:
Elizabeth Vasquez
12:30 pm to 1:00 pm
"Social-Cultural factors in the design of technology for hispanic people with stroke"
Orestis Vardoulis
1:00 pm to 1:30 pm
"Early stroke detection and treatment: The missing puzzle piece"
Elizabeth Vasquez
Ph.D. Candidate in Mechanical Engineering, Stanford University
Bio
Elizabeth Vasquez is a PhD candidate in Mechanical Engineering at Stanford University. Her research in rehabilitative and assistive technology uses a community-centered approach to create more accessible technology for stroke survivors with motor disabilities, particularly those who are medically underserved. She holds a BS in Mechanical Engineering from the Massachusetts Institute of Technology and a MS from Stanford University. Her PhD has been funded by the NSF GRFP, Stanford VPDoR Research on Racial Equity and Justice Seed Grant, and the Stanford Impact Labs.
Abstract
Stroke is a leading cause of serious, long-term disability in the United States. There exist disparities in both stroke prevalence and outcomes between people with stroke in Hispanic and Latinx communities and the general stroke population. Current stroke technology – which aims to improve quality of life and bring people with stroke to the most functional, independent state possible – has shown promising results for the general stroke population, but has failed to close the recovery outcome gap for underserved Hispanic and Latinx people with stroke. Previous work in health education, digital health, and HRI has improved human health outcomes by incorporating social-cultural factors, though not for stroke. In this talk, I will (1) justify accounting for unique cultural factors in stroke technology design for the Hispanic and Latinx community (2) review examples of successful culturally appropriate interventions and (3) suggest design considerations to provide more culturally appropriate design of Hispanic and Latinx stroke technology and reduce the disparity gap.
Orestis Vardoulis
CEO & Co-Founder, Zeit Medical
Bio
Dr. Orestis Vardoulis is the co-founder and CEO of Zeit Medical, a health technology company with a mission to provide peace of mind for those affected by stroke. Orestis has a decade of experience in developing non-invasive and wearable health monitoring technologies. Orestis holds a PhD in Biotechnology and Bioengineering from Federal Institute of Technology in Lausanne (EPFL), Switzerland. He has conducted cutting edge research at Stanford University with the Bao Group (Chem Eng) and the Pediatric health technology incubator lab (Med). During his career, Orestis has been awarded a variety of grants and awards. He has authored 20+ publications in prestigious journals and has filed for a variety of patents at the intersection of medicine, bio-signal processing and materials. Prior to starting Zeit Medical, he was a Stanford Biodesign Innovation Fellow working on a gamut of unmet clinical needs. Orestis lives in San Francisco, and he keeps close ties with the medical technology communities in Switzerland and Greece.
Abstract
---