Novel navigation solutions for the blind
We welcome you to join us in-person and on Zoom for our April eWEAR Seminar.
Date: Tuesday, April 5th from 11:00 am to 12:00 pm PDT
Location: Stanford University (Packard Building, Room 202) & on Zoom
Registration: Please click here to register
Safety Protocol: For visitors coming to campus please review the Stanford University Covid-19 Policies. Face coverings are strongly recommended for everyone attending.
Speakers:
Patrick Slade
11:00 am to 11:30 am
"Improving navigation for people with impaired vision"
Maël Fabien & Bruno Vollmer
11:30 am to 12:00 pm
"Towards safer navigation for blind and visually impaired people: key learnings from biped"
Patrick Slade
Postdoctoral Researcher in Bioengineering, Stanford University
Bio
Patrick's goal is to improve mobility and health by combining advanced robotic devices, human-centered artificial intelligence, and accurate biomechanics modeling. He uses these tools to develop personalized, wearable devices to monitor, diagnose, and assist people facing mobility challenges.

Patrick received his PhD in Mechanical Engineering (Sept. 2021) in the Intelligent Systems, Neuromuscular Biomechanics, and Biomechatronics labs. Patrick is currently a Bioengineering postdoc at Stanford working in the same labs. His work has been published in Science Robotics and Nature Communications.
Abstract
Globally, more than 250 million people have impaired vision and face challenges navigating outside their homes, affecting their independence, mental health, and physical health. Navigating unfamiliar routes is challenging for people with impaired vision because it may require avoiding obstacles, recognizing objects, and wayfinding indoors and outdoors. Existing approaches such as white canes, guide dogs, and electronic travel aids only tackle some of these challenges. We developed an Augmented Cane, a white cane with a comprehensive set of sensors and an intuitive feedback method to steer the user. The Augmented Cane allows people with impaired vision to overcome all major navigation challenges and improves their mobility by increasing preferred walking speed by 20% compared to a normal white cane.
Maël Fabien
CEO & Co-Founder, biped
Bio
Maël, 25 years old, graduated with a Masters in Actuarial Science from HEC Lausanne. During his studies, he won entrepreneurial contests and founded his first startup at the age of 18. He then specialized in AI and started a PhD at EPFL's Idiap lab. After 2 years of PhD, Maël dropped out to focus on the development of what became biped. He now is the CEO of biped.
Maël has always been interested in impactful and inclusive technology. He has also worked in various startups as a data scientist and worked as a free-lance data scientist and technical writer.
Abstract
biped is a smart harness, worn on the shoulders, that guides blind and visually impaired people using spatial sounds. The device is equipped with a set of depth cameras, and in an autonomous vehicle fashion, can detect and predict trajectories of surrounding objects and obstacles, in order to avoid collision. In this talk, Mael Fabien and Bruno Vollmer, co-founders of biped, present the technology and the architecture behind biped. They also introduce how the involvement of more than 100 blind users has impacted the project, and best practices when it comes to building wearable technology for visually impaired users.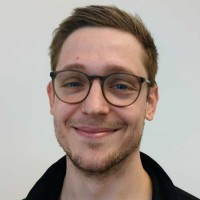 Bruno Vollmer
CTO & Co-Founder, biped
Bio
Bruno, 27 years old, completed a Masters in Computer Science at RWTH Aachen in Germany with a strong focus on Computer Vision and Machine Learning. Bruno gained professional experience by working for two high impact start-ups as a software engineer. Since November 2020, he's been hosting a tech podcast named EinfachTech. As a CTO, Bruno leads the technical development of biped, and creates state-of-the-art algorithms for environment understanding around the user, in real-time.
---