Materials for stretchable electronics
We welcome you to join us in-person and on Zoom for our November eWEAR Seminar.
Date: Monday, November 15th from 1:00 pm to 2:00 pm PST
Location: Y2E2 Building, Room 299, Stanford University & on Zoom
Registration: Please click here to register
Safety Protocol: For visitors coming to campus please review the Stanford University Covid-19 Policies and fill out the Health Attestation form on the day of the event. Face coverings are required for everyone attending.
Speakers:
Yu Zheng
1:00 pm to 1:30 pm
"A molecular design approach towards elastic and multifunctional polymer electronics"
Takatoshi Abe
1:30 pm to 2:00 pm
"Panasonic electronic materials – the development of a unique high temperature substrate for stretchable printed electronics"
Yu Zheng
Ph.D. Candidate in Chemistry, Stanford University
Bio
Yu Zheng is a Ph.D candidate in the Chemistry department at Stanford University under the supervision of Prof. Zhenan Bao. She received a B.S. in Chemistry from Nankai University in 2017. Her current research focuses on developing multifunctional polymer semiconductor materials for high-performance stretchable electronics.
Abstract
Next-generation wearable electronics require enhanced mechanical robustness and device complexity. Besides previously reported softness and stretchability, desired merits for practical use include elasticity, solvent resistance, facile patternability and high charge carrier mobility. Here, we show a molecular design concept that simultaneously achieves all these targeted properties in both polymeric semiconductors and dielectrics, without compromising electrical performance. This is enabled by covalently-embedded in-situ rubber matrix (iRUM) formation through good mixing of iRUM precursors with polymer electronic materials, and finely-controlled composite film morphology built on azide crosslinking chemistry which leverages different reactivities with C–H and C=C bonds. The high covalent crosslinking density results in both superior elasticity and solvent resistance. When applied in stretchable transistors, the iRUM-semiconductor film retained its mobility after stretching to 100% strain and exhibited record-high mobility retention of 1 cm2 V−1 s−1 after 1000 stretching-releasing cycles at 50% strain. The cycling life was stably extended to 5000 cycles, five times longer than all reported semiconductors. Furthermore, we fabricated elastic transistors via consecutively photo-patterning of the dielectric and semiconducting layers, demonstrating the potential of solution-processed multilayer device manufacturing. The iRUM represents a molecule-level design approach towards robust skin-inspired electronics.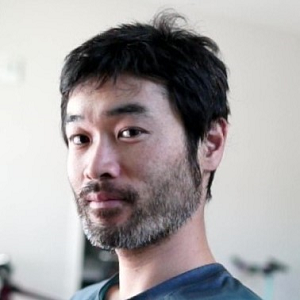 Takatoshi Abe
Technical Development Research Manager, Panasonic
Bio
Takatoshi Abe is a Technology Research Manager with Panasonic North America in California. He graduated with Masters in Materials Science and Engineering from the Tokyo Institute of Technology
Takatoshi has been with Panasonic for 14 years. His experience includes product development and manufacturing technology roles for a variety of electronic material technologies including circuit board laminates, electrically conductive materials, and optical materials for which he holds numerous technical patents. Takatoshi began his career in R&D and now is working in technology scouting, marketing, and business planning.
Abstract
Conventional electronic assembly processes like SMT reflow require high-temperature resistant materials. However, conventional pliable and stretchable polymer films like thermoplastic polyurethane (TPU), normally used for printed and flexible hybrid electronics, exhibit poor temperature–resistance creating challenges in the printing and curing of functional materials like conductive pastes, surface mount assembly, as well as end-use durability.
The technology development center of Panasonic Electronics Materials in Osaka, Japan has been developing materials for FHE/PE applications specifically to address these challenges. Through experiments and use-case devices, we have demonstrated that these new stretchable materials have the durability and heat resistance to be compatible with traditional SMT assembly processes. This presentation will explain the substrate technology in detail and introduce some use-case demonstration parts made using these materials.
---