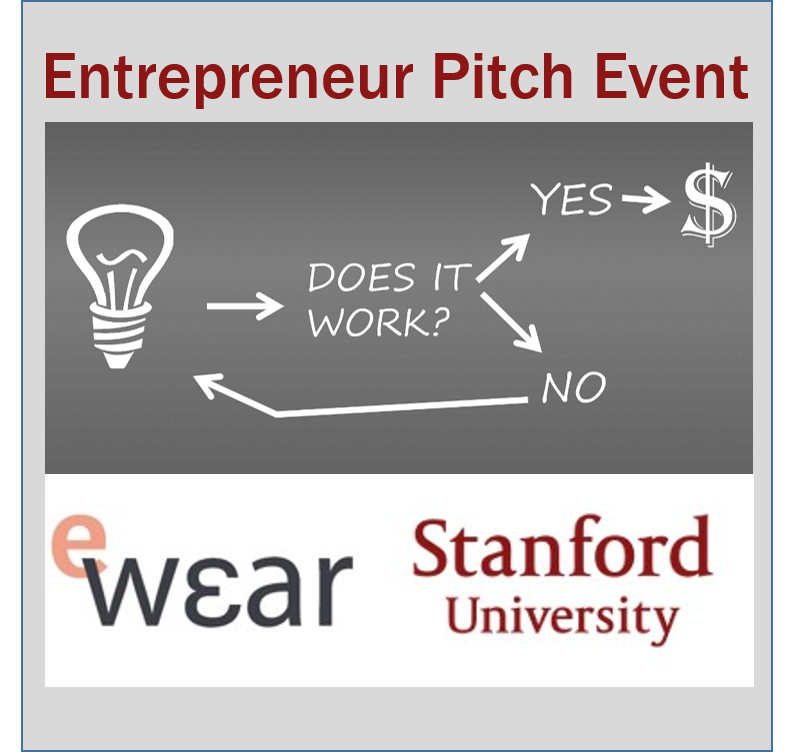 eWEAR Entrepreneur Pitch Event 2023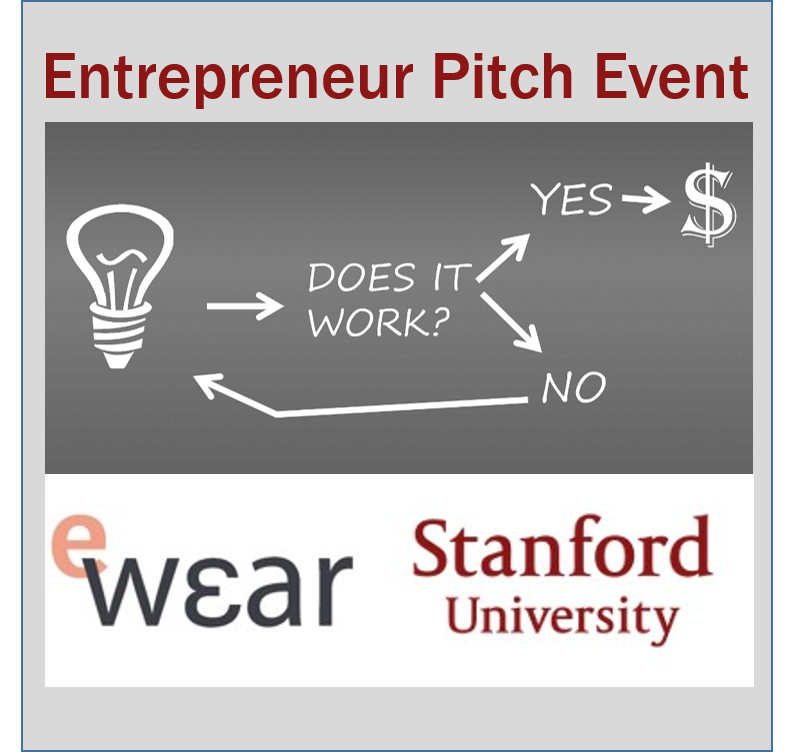 Stanford students and postdoc entrepreneurs present their businesses/ideas for mentoring feedback as a personal growth and networking experience.
Date: Tuesday, April 4th, 12:00 pm to 1:00 pm PDT
Zoom Webinar
(for eWEAR affiliate members and investors by invitation only, inquiries email wearable-electronics@stanford.edu)
---
Speakers:
Jinglong Wang & Mengxiong Wang: "A wearable personal sunlight dosimeter"
Jack Keene & Akash Chaurasia: "Move like your life depends on it: because it does"
Richa Upadhyay & Riya Karumanchi: "DemCare"
Max A. Saccone & Kai Narita: "Hydrogel infusion additive manufacturing (HIAM) to revolutionize metal manufacturing"
Jinglong Wang & Mengxiong Wang:
"A wearable personal sunlight dosimeter"
Abstract: Ultravoilet (UV) radiation is highly associated with health and beauty. UV is the major source for vitamin D synthesis. Even in developed countries in North America and Europe, more than 10% of the population suffered from vitamin D3 deficiency. Too little UV is not sufficient for vitamin D synthesis, while too much UV may cause premature aging skin, eye blindness and cancer. The appropriate amount of daily UV dosage for individual with specific age and skin tone is known, however, few people measure the daily dosage of UV, largely due to the lack of effective wearable UV dosage measurement device. As a result, many people do not pay attention to it until they get sunburn, premature aging skin and skin cancer. The materials for detecting daily UV dosage are available, however, the wearable UV dosage measurement products are rudiment and the proper guidance to use them are vague. We are inventing and manufacture the wearable UV dosage meters that can be put on the wrist, or attach on clothes, hat, fitness armband, and transfer the data to associated APP timely that reminds the vitamin D synthesis and skin damage.
Bios:
Jinglong Wang is a postdoctoral researcher at Stanford University, with over 8 years of experience studying the mechanisms of DNA damage repair using biochemistry, single-molecule, and bioinformatics techniques. Prior to joining Stanford, he worked at a skin-care company in Paris for 4 years.
Jinglong is also an entrepreneur, having participated in the Stanford Business School Ignite Program last summer, where he collaborated with other scientists to found a biotech company that develops lab consumables in the Bay Area.
Currently, Jinglong is leading a team of experts in their respective fields to develop a wearable smart UV sensor combined with an app. The team includes Mengxiong Wang, a postdoc in cancer research, Yuyan Jiang, an expert in material science, and Xing Liu, an AI scientist at Google. Jinglong's expertise and leadership in this project will undoubtedly result in an innovative and impactful solution for smart UV monitoring.
Mengxiong Wang is a postdoctoral scholar in the Radiation Oncology department of the School of Medicine at Stanford University. She has received MD, MPH, and PhD degrees in the past, and has more than eight years of research experience in the field of cancer. Her research is primarily focused on developing strategies for both preventing and treating cancer.
---
Jack Keene & Akash Chaurasia:
"Move like your life depends on it: because it does"
Abstract: Lifespan is how long we live. Healthspan is how long we live well.
The aging process takes a significant toll on our bodies limiting our functional capacity and diminishing the quality of our lives. We lose up to 3% of our muscle mass per year, 1% of our bone density per year, and our cellular physiology changes leading to metabolic syndrome, diabetes, hypertension, heart attacks, and strokes, plus our brains shrink by about 1% per year with attendant memory issues and dementia.
Lack of exercise costs the healthcare system $117 billion per year. This does not include the untold suffering from falls, loss of independence, and the burdens placed on our families.
We cannot stop the aging process, but we can slow it down.
Exercise creates biochemical changes that can mitigate all these changes. We can add new muscle, strengthen our bones, reduce our blood pressure, improve body composition and a host of other physiologic changes. We can improve our healthspan to more nearly match our lifespans.
We are developing an easy-to-use app, "GetMoovin," to make exercise fun and create community through a free photo sharing platform. In addition, it provides a sophisticated subscription side to help people plan their healthspans by guiding them through a process of identifying what is important to them and providing a program to make sure they can do the things that are important to them as they age.
There are over 35 million Americans over 65 who could benefit from starting to move. Our goal is to improve peoples' healthspans and save lives.
Bios:
Jack Keene is an emergency physician, palliative care doctor, mentor, and innovator. Jack has over 30 years of entrepreneurial experience and physician leadership. He co-founded Emergency Treatment Associates which revolutionized emergency department care in the Hudson Valley of New York.
A national expert on emergency department management, he and his team introduced modern triage, sophisticated quality management, risk management, bedside registration and the first emergency department electronic medical record north of New York City. His customer satisfaction programs led to rave reviews.
Jack has years of strategic planning experience with a deep understanding of healthcare regulations, medical devices, fitness, wellness, rural healthcare, and home healthcare needs. His knowledge of medicine as a science and healthcare as a business provides a valuable perspective to established businesses and start-up companies alike.
Most recently, Jack and his wife, Dr. Mary L. Dunne, were part of the 2019 cohort of the Stanford Distinguished Careers Institute (DCI) and have returned for a continuing fellowship year. Jack has mentored several healthcare and longevity start-ups through Techstars and Stanford.
Akash Chaurasia is a Computer Science master's student at Stanford University specializing in Artificial Intelligence. He completed a BS in Biomedical Engineering and Computer Science at Johns Hopkins University where he led multiple design teams focused on medical innovation as well as research projects in the domains of autonomous robotics for vaccine production and computer vision/augmented reality for healthcare. During his undergraduate studies, he founded multiple surgical technology startups.
Following his undergraduate studies, he spent two years at Tesla on the Autopilot team as an AI Program Manager and a Machine Learning Scientist, where he developed safety-critical autonomous driving systems shipped to 2M+ customers.
His current interests are advanced applications of machine learning to healthcare, such as AI biomarkers, clinical QA systems, and agents to support health decision making.
---
Richa Upadhyay & Riya Karumanchi:
"DemCare"
Abstract: Caring for patients with dementia can be challenging, especially for part-time caregivers who may only see their patients a few times a week. One major obstacle they face is the difficulty in accurately tracking changes in health, behavior, and cognition, which can result in guesswork when it comes to providing the best care.
To address this problem, DemCare has developed a digital and hardware solution that aims to support aging-at-home. Our product, HealthNest, is a "smart home in a box" that utilizes passive monitoring through motion sensors and accelerometers to automatically record patients' daily activities. It also features automatic medication dispensers, a smart speaker, and sensors that provide a detailed summary of the patients' activities for family members, caregivers, and physicians to review.
Our goal is to bridge the information gap between caregivers and patients with dementia, so they can make informed decisions and provide high-quality care. With HealthNest, caregivers can have more accurate and reliable data to guide their decisions, while patients can enjoy greater independence and quality of life.
Bios:
Richa Upadhyay is an undergraduate junior with majors in Data Science and Social Systems and Public Policy, with concentrations in healthcare. She has experience as a Project Manager for Cardinal Policy Group, an intern for Congresswoman Eshoo and the Center for American Progress. Deeply passionate about healthcare, tech policy, and business, she hopes to use her skills learned from Stanford courses, projects, and internships towards the creation of more efficient healthcare and health insurance systems, more robust and proactive legislation surrounding technology innovation, and develop more secure platforms that protect user's privacy and decreases data breaches. She is excited to pursue DemCare, as she believes that technology-driven solutions for aging-at-home and meeting the patients where they are is important to simple and cost-effective care.
Riya Karumanchi is a sophomore at Stanford studying Computer Science, with a focus on Computational Biology. She is incredibly excited about the intersection between technology and healthcare to create medical devices and digital health solutions that improve quality of life as you age. In the past, she has founded two med tech. startups in accessibility and geriatric tech for retirement homes. This experience led her to lead an aging-technology team at Deloitte to develop a wearable device for fall prediction in the elderly, and intern at a leading medical technology startup in Zurich, Switzerland. She cares deeply about the need to increase the number of years we live well, and hopes that DemCare can help change the traditional image of aging from institutionalized care to aging-in-place.
---
Max A. Saccone & Kai Narita:
"Hydrogel infusion additive manufacturing (HIAM) to revolutionize metal manufacturing"
Abstract: Hydrogel infusion additive manufacturing (HIAM) produces metals and alloys with microscale resolution via vat photopolymerization (VP). To fabricate micro-architected metal structures, we infuse 3D-architected hydrogels with aqueous metal precursors, then calcine and reduce the infused hydrogel scaffolds to create miniaturized metal replicas. Unlike existing VP strategies, which incorporate target materials or precursors into the photoresin during printing, HIAM does not require re-optimization of resins and curing parameters for different materials, enabling quick iteration, compositional tuning, and the ability to fabricate multimaterials. This technology uses commercially available polymer-based 3D printers, with 100x lower equipment cost and 10x higher resolution than state-of-the-art metal 3D printing. As a metal manufacturing platform, we horizontally target varied industries such as heat transfer devices, automotive parts, medical devices, and energy storage materials.
Bios:
Max A. Saccone is a postdoctoral scholar at Stanford. He received a PhD in Chemical Engineering from Caltech in 2022, and is the lead author of a paper entitled "Additive manufacturing of micro-architected metals via hydrogel infusion." His research interests include additive manufacturing methods development for applications ranging from energy storage materials to biomedical devices.

Kai Narita is a materials scientist and entrepreneur, and CEO/Co-founder of 3D Architech, a startup commercializing gel-enabled metal additive manufacturing. He earned his PhD in Materials Science from California Institute of Technology in 2021. He was awarded MIT Technology Review Innovators Under 35 Japan 2021.