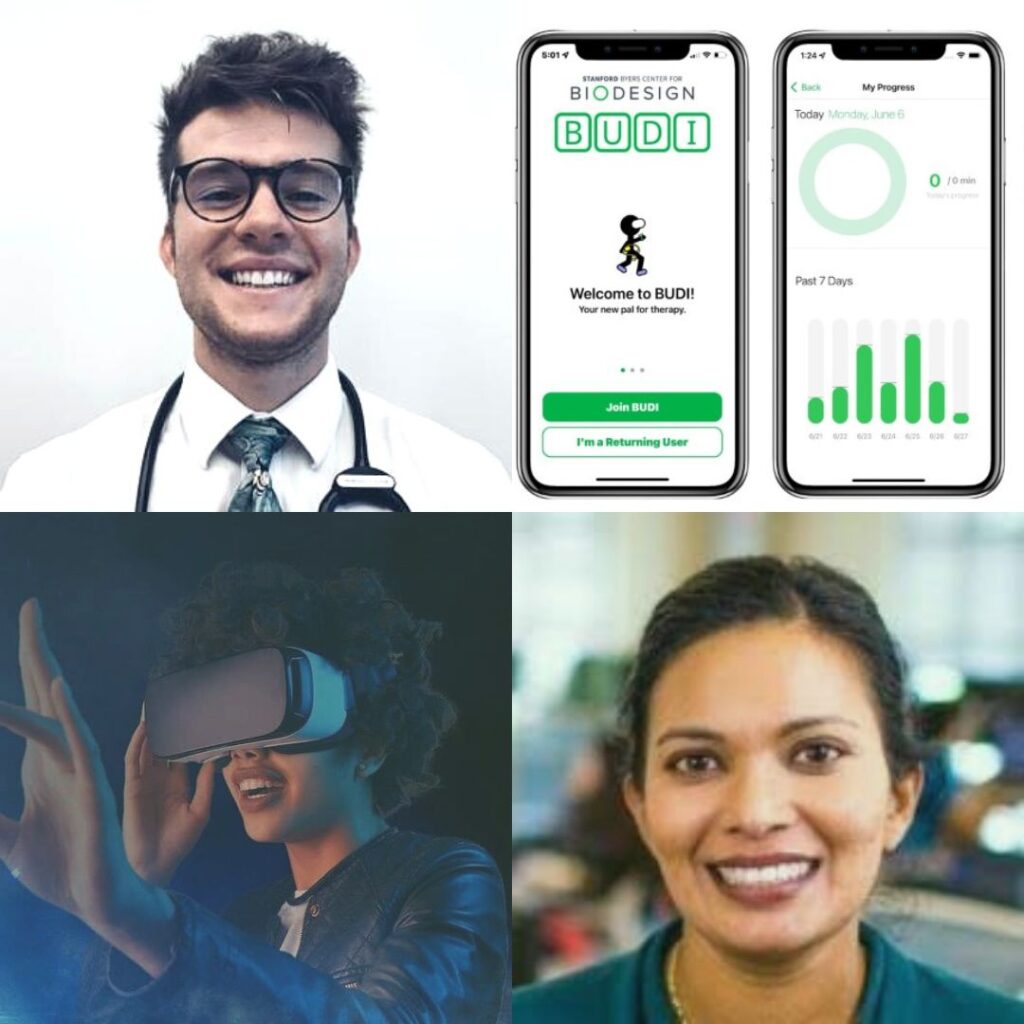 Enhancing Therapy with Wearables
We welcome you to join us in-person and on Zoom for our Septmeber eWEAR Seminar.
Date: Monday, September 26th from 12:30 pm to 1:30 pm PDT
Location: Stanford University (Y2E2 Building, Room 299) & on Zoom
Lunch will be provided at 12:00pm for in-person attendees & a chance to talk with the speakers after the seminar.
Registration: Please click here to register
Safety Protocol: For visitors coming to campus please review the Stanford University Covid-19 Policies. Face coverings are strongly recommended for everyone attending.
Speakers:
Blynn Shideler
12:30 pm to 1:00 pm
"BUDI – an Apple Watch tool for children with cerebral palsy"
Afsana Akhter
1:00 pm to 1:30 pm
"Better Mental Health and Virtual Care using Virtual Reality"
Blynn Shideler
MD student, Stanford University
Bio
Blynn Shideler is a second-year medical student interested in pediatric rehabilitation and child neurology. Prior to coming to Stanford, Blynn studied biomedical engineering at Columbia and spent a year at the National Institutes of Health Hospital helping build a pediatric robotic exoskeleton for cerebral palsy. At Stanford, Blynn is working on starting the Pediatric Rehabilitation Technologies Program, a space for children with physical disabilities to try new devices for mobility health.
Abstract
BUDI, the Biofeedback Upper-Limb Device for Impairment, is a digital health platform aiming to make physical and occupational therapy more accessible and engaging for children with cerebral palsy. Cerebral palsy is the world's most common pediatric movement disorder. While there is no cure for cerebral palsy, affected individuals benefit from daily therapy for mobility and functional activities. BUDI addresses these challenges by accessing health sensor data from an iPhone & Apple Watch and integrating with Apple Health to create a real-time biofeedback experience for remote therapy. Biofeedback has been shown to improve user compliance of physical and occupational therapy by creating environments that are more engaging, motivating, and fun. BUDI allows you to take this biofeedback experience with you anywhere, track your therapy progress over time, and connect with providers and resources for your care whenever you need them.
Afsana Akhter
Chief Executive Officer, Amelia Virtual Care
Bio
Afsana Akhter is the President and CEO of Amelia Virtual Care, a Mental Health platform that uses Virtual Reality to enable better patient care. Amelia Virtual Care is used by over 2,000 therapists across the globe to enhance patient therapy for both in-person and remote environments.
Afsana brings 20 years of experience across Tech and Digital Health and has held commercial leadership roles at Livongo, Prealize Health, and Medullan. Afsana holds BS and MEng degrees in E.E.C.S. from MIT.
Abstract
The benefits of Virtual Reality in Mental Health are well established through 1000+ studies spanning three decades of research. VR technology has become user friendly and affordable enough to be used widely and consumer adoption of VR is growing rapidly. Amelia Virtual Care has developed a cloud based, VR, and mobile platform for mental health used by more than 2000 therapists globally. Amelia will share why therapists are using VR to enhance patient experience, increase adherence, and improve outcomes, and how they are using it for both in-person and remote therapy.
---