Enabling early detection of disease and telehealth with wearables
Co-Hosted with the PHIND Center

Date: Tuesday, December 1, 2020 11:00 am – 12:00 pm PDT
Zoom Webinar: Please click this link for registration.
Zoom login details will be sent to attendees upon registration.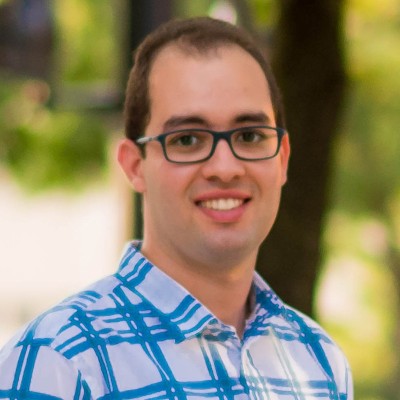 "Pre-symptomatic detection of COVID-19 via wearables biosensors"
Speaker: Ahmed Metwally, Postdoctoral Scholar, Stanford University
Abstract:
Wearable devices digitally measuring vital signs have been used for monitoring health and illness onset and have a high potential for real-time monitoring and disease detection. As such, they are potentially useful during public health crises, such as the current COVID-19 global pandemic. In my talk, I'll discuss how wearables biosensors can be used as a tool to early detect COVID-19 onset using physiological and activity data. By using retrospective smartwatch data, we showed that 63% of the COVID-19 cases could be detected before symptom onset in real-time via the occurrence of extreme elevations in resting heart rate relative to the individual baseline. Our findings suggest that consumer wearables may be used for the large-scale real-time detection of respiratory infections, often pre-symptomatically, and provide an approach for managing epidemics using digital tracking and health monitoring.
Bio:
Ahmed Metwally is a postdoctoral scholar in the Snyder lab at Stanford University. Ahmed received his Ph.D. in Bioinformatics/Bioengineering and M.S. in Computer Science (focused on Deep Learning), both from the University of Illinois at Chicago (UIC) in 2018. He currently works on developing novel machine learning methods for longitudinal multimodal biomedical data fusion (omics and wearable biosensors data) to early detect cardiometabolic diseases and personalize their treatments. Ahmed has received numerous awards, such as NIH Predoctoral Translational Scientist fellowship, ISMB'20 best talk award, Stanford COVID-19 RISE Grant, second-place award at Stanford Health++ Hackathon, and many travel awards NSF, IEEE, ISCB, and UIUC for various educational and scholarly activities.
"Continuous remote cardiorespiratory and health monitoring using the Hexoskin biometric shirt"
Speaker: Pierre-Alexandre Fournier,
Co-Founder & CEO of Hexoskin
Abstract:
The Hexoskin Connected Health platform will be discussed as an example of a biometric shirt validated for use in telehealth and clinical research. Hexoskin has the only clinically validated biometric garment which provides continuous monitoring of numerous and unique physiological parameters. Hexoskin is an enabling technology for telehealth use cases, such as remote patient monitoring, at-home cardiovascular and pulmonary rehabilitation, and post-acute care. Hexoskin offers a unique set of high-resolution biometric data that can continuously monitor activity, sleep, cardiac and respiratory data. Projects in fields such as cardiology, respiratory, behavioral and physiological psychology, biofeedback research, sleep research, and health will be described. The Hexoskin Connected Health Platform provides researchers with accessible solutions such as the Hexoskin Dashboards, Open API, and Apps to manage, visualize, annotate, analyze, and export raw & processed health data. Data extraction tools allow access to the raw data with time series for machine learning and artificial intelligence projects.
Bio:
Pierre-Alexandre Fournier is co-founder and CEO of Hexoskin, a Montreal-based company focused on clinical-grade wearable sensors and AI software for health and clinical research. Hexoskin was founded in 2006 and in 2013 released the first iPhone compatible smart clothing for health monitoring, winning several international awards. In 2018 Hexoskin launched a remote health monitoring system for astronauts on the International Space Station. Hexoskin recently reached the milestone of 100 scientific publications. Pierre-Alexandre earned his MASc and his BEng in Electrical Engineering from the Ecole Polytechnique de Montreal and became a lecturer there teaching electronics and machine learning. Pierre-Alexandre is also an advocate for transparency in healthcare, patient empowerment, and healthcare innovation through design.