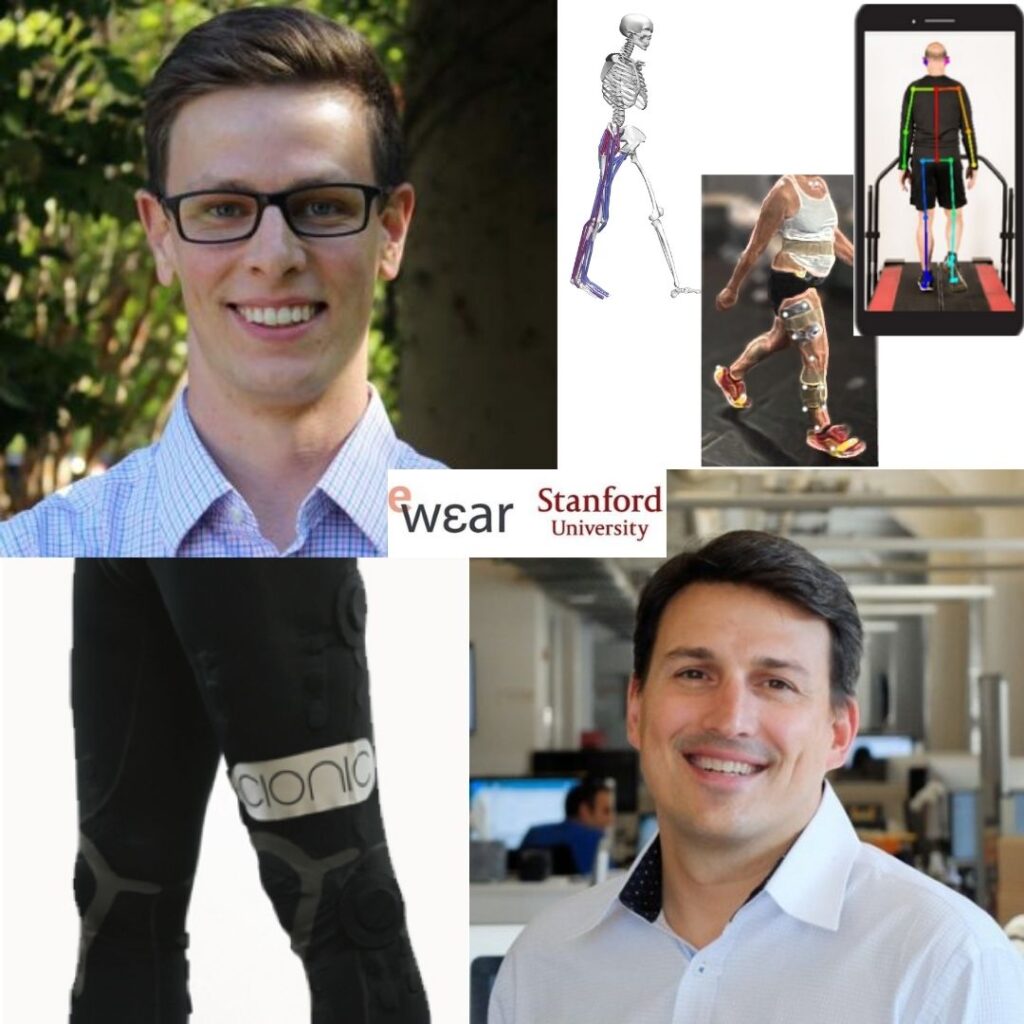 Electromyography for modeling movement disorders and assistive technologies
We welcome you to join us in-person and on Zoom for our March eWEAR Seminar.
Date: Friday, March 11th from 11:00 am to 12:00 pm PST
Location: Li Ka Shing Room 130, Stanford University & on Zoom
Registration: Please click here to register
Safety Protocol: For visitors coming to campus please review the Stanford University Covid-19 Policies and fill out the Health Attestation form on the day of the event. Face coverings are required for everyone attending.
Speakers:
Scott Uhlrich
11:00 am to 11:30 am
"Retraining human movement with biofeedback to reduce loading in osteoarthritic joints"
Jeremiah Robison
11:30 am to 12:00 pm
"An open platform for wearable bionics"
Scott Uhlrich , Ph.D.
Director of Research, Stanford Human Performance Lab
Bio
Scott Uhlrich is the Director of Research in the Stanford Human Performance Lab. He is interested in understanding pathological human movement as well as peak human performance. He uses experimental techniques and computational modeling to develop tools for preventing injury, improving the efficacy of rehabilitation, and maximizing mobility for individuals with diseases like osteoarthritis. Dr. Uhlrich has designed and patented numerous rehabilitation tools and has investigated their efficacy in clinical trials. He also develops tools for measuring human movement with commodity sensors like a cell phone camera, facilitating clinically-actionable measurements to be made in the clinic, at home, or on the field.
Abstract
Gait retraining is a promising non-surgical treatment for knee osteoarthritis that aims to reduce excessive joint loading, which accelerates disease progression. We will discuss two gait modifications that reduce knee loading during walking: one by altering kinematics (how someone walks) and another by altering muscle coordination. We will first discuss a randomized controlled trial that investigated the efficacy of personalized kinematic gait modifications on pain, loading, and cartilage degeneration in individuals with medial knee osteoarthritis. We will then discuss our use of musculoskeletal simulations to design novel biofeedback interventions. In one example, we used simulation to design biofeedback that taught individuals to change their muscle coordination pattern in a way that reduces knee loading. Finally, we will discuss how mobile sensing will translate these gait modifications into clinical practice.
Jeremiah Robison,
Founder & CEO, CIONIC
Bio
Jeremiah Robison is the founder and CEO of CIONIC, an innovative company that builds lightweight and durable bionic clothing driven by powerful algorithms that adapt in real time to each individual's mobility needs. He is an advocate for accessibility and creating new technology for people living with neurological conditions such as cerebral palsy, multiple sclerosis, stroke, and more.
Abstract
Today, 1 in 7 adults lives with a mobility impairment. While advances in sensors, control systems, and AI are revolutionizing industries like manufacturing and transportation, innovation for the human body is lagging behind. What if we could bring together the best of research, clinical practice, and commercialization to accelerate new solutions to the human body on an open platform for wearable bionics?
---