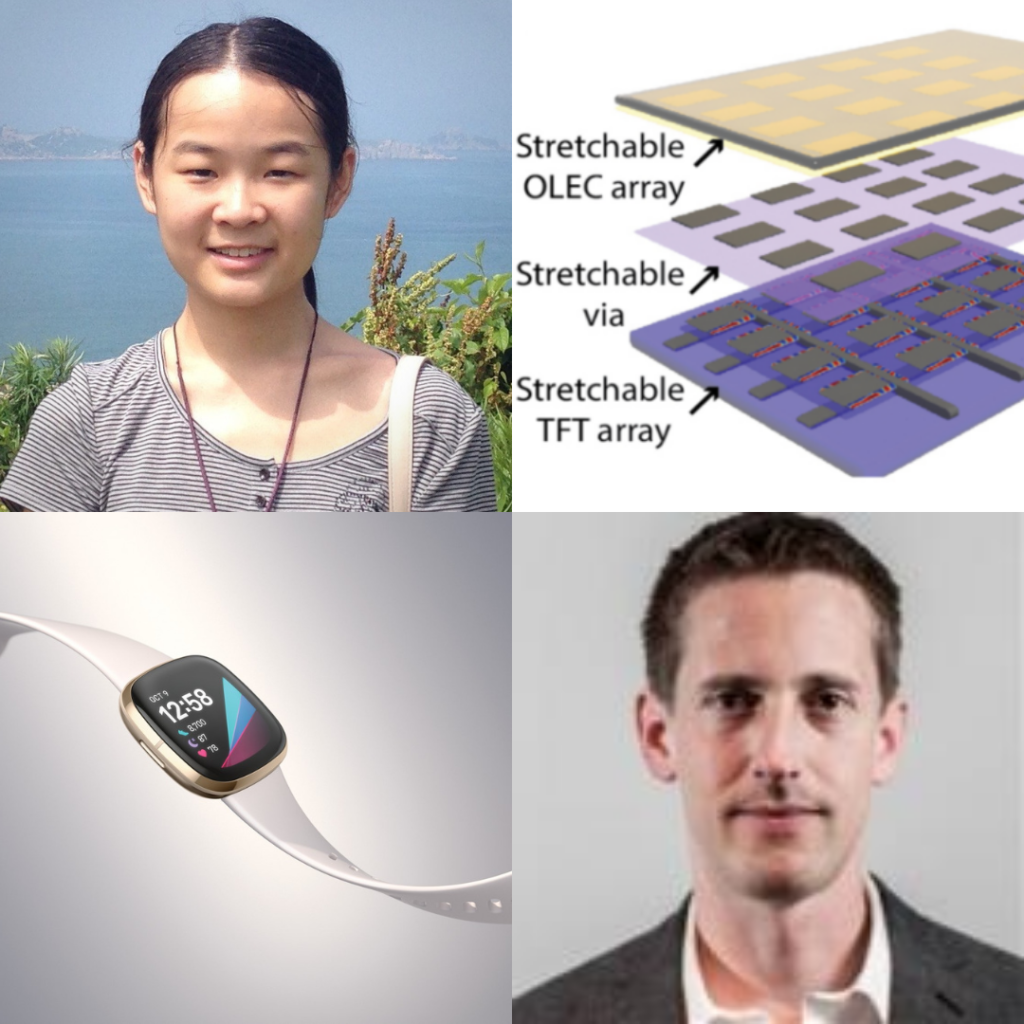 Design Considerations for Wearables
We welcome you to join us for this eWEAR Seminar on Wednesday 4/28 from 11:00 am to 12:00 pm PDT

Registration: Please click here to register
Speakers:
Jiechen Wang
11:00 am to 11:30 am
"Solution Processed Highly Stretchable Organic Electronic Device Systems"
Pieris Berreitter
11:30 am to 12:00 pm
"Designing Sensors for Consumer Wearables: Reliability, Power, and Performance Considerations"
Jiechen Wang
Ph.D. Candidate, Materials Science and Engineering, Stanford University
Bio
Jiechen Wang is a Ph.D. candidate and recently defended her dissertation for a Ph.D. degree in Materials Science and Engineering at Stanford University. She is a researcher in the lab of Professor Zhenan Bao and works on the development of intrinsically stretchable electronic material and stretchable/wearable devices, including stretchable thin film transistors, light emitting devices and CMOS inverters. Jiechen's research on skin electronics was supported by Samsung Electronics as part of the Samsung-Stanford Univ. Global Research Partnership Program. Jiechen earned a bachelor's degree in Materials Science at the University of Illinois at Urbana-Champaign in 2016. As an undergraduate, she was a student researcher in the lab of Prof. John Rogers, working on flexible/stretchable device fabrication.
Abstract
Stretchable devices are of growing interests. Their deformability and flexibility enables their tolerance to mechanical strain and compatibility with complex surface, which significantly enlarge their applications in modern device systems, such as medical care devices, virtual reality interfaces, robotic skin, foldable screens, smart wallpapers, etc. In my doctoral thesis project, I achieve the development of highly stretchable devices including P-channel thin film transistor (TFT), N-channel TFT and organic light emitting cells (OLEC), which are composed of intrinsically stretchable materials and are enabled by solution processing. I also achieve the integration of P-channel TFT and N-channel TFT as the world first fully stretchable CMOS inverter circuit, as well as the integration of TFT array and OLEC as the world first fully stretchable active matrix display.
For TFT, carbon nanotube is employed as conductive electrodes. Fluorinated polymer is employed as dielectric material, considering its good stretchability and chemical resistance. Organic semiconductor material is patterned on dielectric layer by inkjet printing. The P-channel TFT array has a mobility distribution at 0.56 ± 0.17 cm2/Vs, and N-channel TFT array at 0.11 ± 0.03 cm2/Vs. The integrated CMOS inverter circuit possesses an amplification number of 14.3 and stretchability of 100% strain.
For stretchable OLEC, SuperYellow is employed as light emitting material due to its large molecular weight enabled stretchability. AgNW embedded in polymer matrix is employed as conductive electrode due to its high transparency and conductivity. To integrate OLEC with TFT, I connect the cathode of OLEC with the drain electrode of TFT, and apply appropriate negative potential to the TFT drain electrode. By giving or removing gate voltage, the luminescence of each OLEC pixel can be controlled. The final device gives a stretchability around 30%.
Pieris Berreitter
Manager of Hardware Engineering, Fitbit (Google)
Bio
Pieris Berreitter has more than 20 years of experience in consumer electronics, ranging from pro-audio signal conversion to digital video cameras and tablet computers. Responsible for hardware engineering at Fitbit since 2015, Pieris has overseen hardware development for the smartwatch and tracker portfolio, helping over 40 million people live healthier lives with the data and insights from Fitbit's wearable products. In addition to product development, Pieris maintains and guides technology roadmaps for Fitbit key components including packaging, sensors, displays, batteries, and antennas. He also serves a critical advisory role to leading industry partners, aligning long-term technology trends to match anticipated integration challenges for the next generation of products. In his spare time, he is a mentor to various hardware startups in the Bay Area to provide expertise in product scalability and technology readiness.
Abstract
Consumer Wearable Devices have the potential to influence the lives of millions, but maintaining the performance and accuracy of new sensor technologies can be a rough transition from component to product. Despite this abuse, users expect their smartwatch to keep working, years later, all while providing health insights. In this talk, we will cover some of the integration challenges unique to consumer electronics: size, power consumption, environmental reliability, and sensor performance expectations.
---